Uttaranchal Tourism
–»
Glaciers of Uttaranchal

Glaciers of Uttaranchal

Bunder Punch Glacier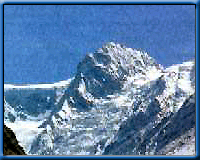 Bandarpunch is an important glacier of Yamuna river basin . The glacier is 12kms. long situated on the northern slopes of Bandarpunch peak(6316m) Bandarpunch west (6102m), and Khatling peak (6387m). the glacier is formed by three cirque glacier and later join the Yamuna river.The glacier lies on a gentle slope and is bounded by lateral moraines, which indicate the last surface level of the glacier.
The glacier can be approached from Dehradun to Sankri-Saur by bus and from Sankri-Saur to Taluka, 11kms. by jeep or light vehicle, then Osla, 14kms. From Osla Ruinsiara Tal, located just below the glacier snout, is the best camping site. From Ruinsiara one can visit the glacier and surrounding
area.

TREKKING : BASE CAMP TALUKA
• Taluka to Bandarpunch 23kms
• Taluka to Seema /Osla 14kms
• Seema to Bandarpunch 15kms
• Taluka to Mussoorie 171kms
• Mussoorie to Dehradun 36kms

By Road :
Dehradun to Taluka 207kms
---
Gangotri Glacier


Gangotri Glacier is a well-known glacier in Garhwal Himalaya, situated in Uttarkashi district. The glacier roiginates at the northern slope of Chaukhamba range of peaks. This is not a single valley glacier, but a combination of several other glacier that are fed to it and form a huge mass of ice. Bhrigupanth (6772m), Kirti stambh (6285), Sumeru Parvat (6380) respectively and Ratavana Bamak, Chaturangi Bamak and Swachand Bamak lie on the northeast slope of Srikailash, Man parvat, Satopanth and an un-named group of peaks. The glacier lies within a span of 28kms. and terminates at Gaumukh(4000m). The glacier flows at a gentle slope except for a few ice walls and crevices developed in the upper regions of the glacier where, as in the lower part (above the snout), the glacier is covered by debris, which imparts a muddy appearance to its surface. The glacier is easily approachable. It is well connected by motorable road upto Gangotri temple and from there a 17kms, long bridle path follows along the right bank of the Bhagirathi river to Gaumukh, the snout of the glacier.
TREK : BASE CAMP GANGOTRI GLACIER
Gangotri temple to Gangotri Glacier 17kms.
By Road :
• Gangotri to Uttarkashi 99kms.
• Gangotri to Tehri 173kms.
• Tehri to Rishikesh 85kms.
---
Khatling Glacier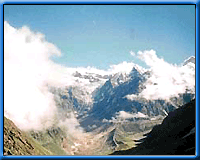 This lateral glacier situated in Tehri district is the source of river Bhilangna. The glacier is surrounded by snow peaks of the Jogin group (6466m), Sphetic Pristwar (6905m), Barte Kauter (6579m) Kirti Stambh (6902m) and Meru. The moraines on the side of the glaciers look like standing walls of gravel mud.
The trek which starts from Ghuttu is easily approachable by motor from Dehradun, Tehri, Mussoorie and the Rishikesh railhead. One has to trek about 45kms. and pass through remote villages with thick Kharsao forest and wide open beautiful lush grassy meadows. The entry to the Bhilangna Valley provides excellent spots for camping. Tents and adequate provisions need to be arranged in advance from Rishikesh, Tehri and Dehradun.

TREK : BASE CAMP GHUTTU
• Ghuttu to Reeh 10kms.
• Reeh to Gangi 10kms.
• Gangi to Kalyani 5kms.
• Kalyani to Bhelbagi 13kms.
• Bhelbagi to Khatling 7kms .
By Road :
•
Ghuttu to Tehri 64kms.
• Tehri to Rishikesh 83kms.
---
Doonagiri Glacier


Doonagiri glacier is one of the important glacier of Dhauli Ganga system of glacier where more than 500 glacier, of different shapes and sizes lie in the deep and narrow valleys. The important glacier here are: Changbang, Girthi Hoti and Niti glaciers, Doonagiri glacier is 5.5kms. long, extending between an elevation from it head 5150m to the snout 4240m, which is the terminal point of the glacier. A stream originating from the glacier merges into Dhauli Ganga near the Juma village.
The glacier is approachable from Juma on the way to Joshimath-Malari road. 8kms. from Juma lies the Doonagiri village. From Doonagiri village a 12kms. long foot-trek runs along the Doonagiri stream to reach the glacier snout. Bagini is another glacier in this valley. Doonagiri is the last village in the valley. Near the vicinity of the glacier there is a good place for camping. The best time to visit the place is mid May to mid October.
TREK : BASE CAMP JUMA VILLAGE
• Juma to Doonagiri Glacier 20kms.
• Juma to Doonagiri Village 8kms.
• Doonagiri to Doonagiri Glacier 12kms.
By Road :
• Juma to Joshimath 43kms.
• Joshimath to Srinagar 147kms.
• Srinagar to Rishikesh 109kms.
---
Dokrani Glacier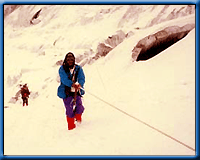 Dokriani Bamak (Bamak is the local name of the glaciers) is another well developed medium-sized glacier of the Bhagirathi basin. The glacier is formed by two cirques, originating at the northern slope of Draupadi-ka-Danda and Jaonli peak, 5600m and 6000m respectively. The glacier is 5 km. long and flows in the northwest direction terminating at an elevation of 3800m. The stream originating from the glacier's melted water is called Dingad which later joins many other snow / ice melted streams and finally merges into Bhagirathi river near Bukki village. There are several well- developed meadows and Proglacial lakes located 2kms. below the snout of the glacier. These meadows, lakes and other formations themselves tell us the past history and behavior of the glacier and also provide good camping sites.The glacier is easily approachable from Uttarkashi. Nearly 56kms. from Uttarkashi on the road to Gangotri, Bukki village is 2kms. from the bus terminus situated on the right bank of Bhagirathi river. On way to Dokriani glacier, one has to walk 23kms. from the road (Bukki village). After crossing the Bhagirathi river a footpath flows along the steep mountain slopes up to Tela camp (2500m). from tela to Gujjar hut a 12km. run along the Dingad stream is a route offered to cross the several up and down ridges, many small and big streams and dense mixed forests of Deodar, Rhododendron, Oak, Pine etc. provide an atmosphere of perfect peace and tranquility. overwhelmed by such heart-touching beauty one crosses the way without difficulties. Gujjar Hut ( a summer camp of Gujjars with their buffaloes) is located at a height of 3500m., just 5kms. below the Dokriani glacier. Gujjar Hut is the gateway of the valley. The valley has a gentle slope with different land features formed by the glacier and surrounded by snow-covered peaks. This place is good for camping and one can walk up to the glacier and adjoining areas and climb the small peaks. Only Gujjar huts and a base camp ( near the glacier snout ) of Wadia Institute of Himalayan Geology, Dehradun lie on the way. One visiting the area has to make his own arrangement for food, tents and light warm clothes. The best season to visit is throughout summer and autumn . Besides the above two glaciers, Kedar, Rudugaira and Jaonli are some other glaciers which are approachable by the same way
TREK : BASE CAMP NANITAL
• Bukki to Dokriani Glacier 23kms.
• Bukki to Bukki village 2kms.
• Bukki to kheratal 17kms.
• Kheratal to Dokriani Glacier 5kms
• Bukki to Uttarkashi 34kms
• Uttarkashi to Rishikesh 149kms
---
Kaphini Glacier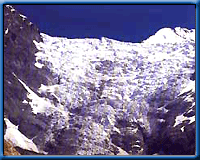 The scenic beauty and the tranquility prevailing this region has an unbeatable charm. The Kaphini Glacier lies left of the Pindar Valley below the famous peak of Nandakot. The route to Kaphini Glacier covers the same track up to Dwali, as the track to Pindari. Kaphini Glacier is 12 km from Dwali via Byali Udiyar, which is at a distance of 8 km from Dwali. As compared to Pindar the valley is much broader and the rhododendron (burans) that blooms here is spectacularly beautiful. The main Himalayan summits visible from the glacier are Nandakot (6860 m) and Nandabhnar (6236 m).
There are no rest houses beyond Dwali on the Kaphini track, so one has to use tents. Byali Udiyar is an ideal spot for a night's stay, because there are grasslands to pitch a tent and caves for a convenient night halt. To reach the glacier, one should start very early from Byali Udiyar 4 km away, so as to arrive at the zero point before 9 a.m..
Trek Base Camp Saung
• Saung to Kaphini Glacier 45 km.
• Saung to Loharkhet 3 km,
• Loharkhet to Dhakuri 11 km,
• Dhakuri to Khati 8 km,
• Khati to Dwali 11 km,
• Dwali to Kaphini Glacier 12 km.
By Road :
• Saung to Bageshwar 36 km.
• Saung to Almora 109 km.
• Saung to Kathgodam 199 km.
• Khati to Dwali 11 km,
• Dwali to Phurkia 7 km,
• Phurkia to Pindari Glacier 5 km.
---
Ralam Glacier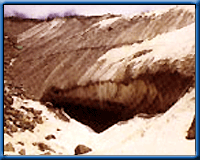 RalamGlacier is situated in Tehsil Munsiyari of Pithoragarh district.The road head for ralam glacier is Munsiyari. Munsiyari is 200km from Almora, 262 km from Nainital and 280km from Kathgodam. The Ralam glacier trek is a very tough and beautiful trek. It is 50km trek from road head. The main attraction of this treks are ralam and paton village, Damfu Bugyal and Ralam glacier. There are three glaciers meet in ralam glacier (kalabaland, sutela and yangchar glaciers). The maximum height of this trek is 3900m. Kalabaland is one of the beautiful glacier in this valley. The best time to come here is last week of April to last week of June and first week of September to first week of November. You must have 8-10 days for the trekking of Ralam glacier.
TOUR ENDS WITH SWEET MEMORIES TAKE HOME



Glaciers of Uttaranchal Reservation Form