Uttaranchal Tourism
–»
Chaukori

Chaukori , Uttaranchal Hill Station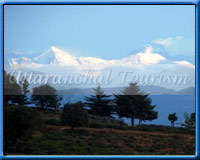 Chaukori,
a small Hamlet situated in Pithoragarh Distt of Uttarakhand, famous for the tea Garden eastablished by britishers and view of Himalayas snow clad ranges some of the massive peaks with a view at 175 degrees are trishul, nandadevi, maiktoli, nandakot and panchchuli. The virgin beauty of Chaukori is mesmerising and enchanting which would definitely linger in your memory for days to come At a height of 2,010 m, above the sea level and 173 km away from Nainital, Chaukori is not just another hill station, but it's for the very few, who want to be there, in the majestic proximity of the Himalayas for an unbound view of the NandaDevi and Panchchuli peaks,One of the most magnificent aspects of holidaying in Chaukori is the fabulous sunrise and sunset that you are treated to.
The night sky is studded with a million stars that simply takes your breath away. The charming little town of Chaukori is unlike any other hill station you have seen Chaukori is not less than sensing the poet in God for creating such perfect place. It is a Must visit destination of lifetime to get inspiration from Mother Nature.
How to Reach
Air:
The nearest airport is Naini Saini at Pithoragarh (91 kms).
Rail :
The nearest Railhead is Kathgodam, 198 kms. Some of the important train connections for Kathgodam are Shatabadi Express, Howrah Express (3019/3020, Ranikhet Express (5013/5014), Rampur Passenger, Nainital Express (5308/5307)
Road:
Chaukori is connected through metalled hill roads with all the major towns in the area. It is 480 km from Delhi and 173 km from Nainital.
The most convenient way to get here is to drive from Delhi, via Haldwani - Almora
Places Around Chaukori
Patal Bhuvaneshwar (49 Kms): temple of the Lord Shiva in an underground cave.
Kasturi farm (3 Kms) : where deer are bred.
Gangolihat (35 Kms) : It has the famous Hat-Lalika temple dedicated to Goddess Kali
Dharamghar (9 Kms) : Sarla Behn, the disciple of Gandhi Ji, spent her last days.
Bageshwar (47 Kms) : Base camp for Pindari Glacier Trek.
Berinag (10 Kms) : Famous for yielding high quality tea.
Nakuleshwara (50 Kms) : Temple built by Nakul & Sahdev (two brothers of Pandavas).
Baijnath Temple : Devoted to Lord Shiva.
Ojaswi Resort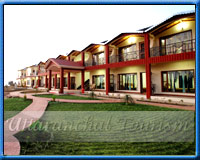 Ojaswi Resort chaukori catering exclusively to the taste, of a traveler seeking the serine beauty in the Himalayas.In the lap of the Himalayas is the town of Chaukori After a dramatic climb of 2010 meters ,lush green alphin forests and over mountain ridges to a majestic Himalayan Range, If you have been dreaming of a peacefully relaxing and utterly charming holiday, here's the perfect place for you. Ojaswi Resort and hotel in chaukori , created for those who desire peaceful holidays close to Himalayas It is built on a hillside overlooking the Himalayan Peaks .
We offer a luxurious vacation in the lap of nature with nature walks, angling, trekking, bird watching. one can view the snow clad ranges even from the cozy comforts of the bed. the main peaks visible from here are trishul, nandadevi, maiktoli, nandakot and panchchuli. It is an idyllic holiday resort amidst unspoilt nature, a land bestowed with natural abundance, fruit orchards, and the jungles of Pines, Oaks and Rhododendrons.
One can look at the awe-inspiring distant peaks, walk in the forests and orchards and relax.

Facilities :
Centrally located with excellent scenic beauty of the himalayan peaks & Sun rise from the rooms.
Ample car parking space.
Generator for power backup.
24 hrs cold and hot water.
Restaurant facility with room service.
Well Furnished Rooms.
LCD T.V with cabel network.
Well Furnished Rooms with attach bathrooms.
Tariff 2010
| | |
| --- | --- |
| Room Category | Price (INR) |
| Family Suite | Rs.2400/- |
| Super Deluxe Double Bed | Rs.1800/- |
| Deluxe Room | Rs.10600/- |
| Extra Bed | Rs.300/- |
Summer
Packages 2010: 2 Night / 3 Days Accomodation
| | | |
| --- | --- | --- |
| Plan | Price 2 Adults | Child 5 -12 Years |
| 2 Night / 3 Days Package. | 5,990/- | 1200/- |
| 3 Night / 4 Days Package. | 7,990/- | 1800/- |
* Package include :

Stay for 2 Nights
Daily Bed Tea,Breakfast and Dinner
All Taxes.
Uttaranchal Hill Stations Reservation Form